About Ben's Plaice, Millbrook
From small beginnings, to two 'Ben's Plaice' fish and chip shops in Cornwall.
Ben's Plaice is a small family business, with our first fish and chip shop having opened its doors in East Looe at the end of 2021.  Popularity exceeded expectations, and we are now a well-known, award-winning business, with a 5-star hygiene rating.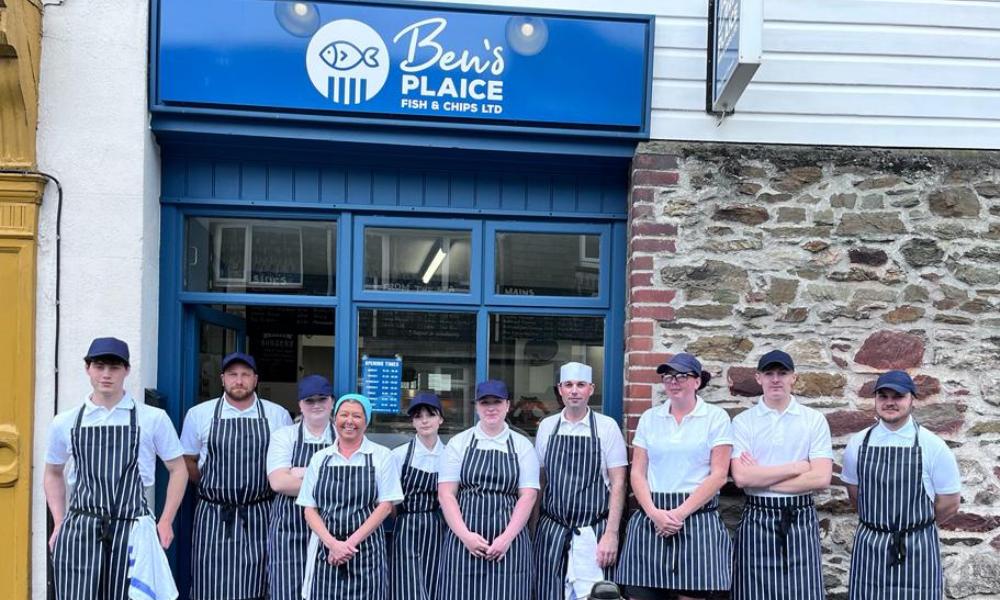 Ben's Plaice – From the Start
I was a regular visitor to Looe – a seaside town in Cornwall.  After what I always thought was a pipe dream, the opportunity arose to purchase an old chip shop that had unfortunately been a victim of Covid-related closures.  Along with input from a family member, I decided to take the bull by the horns, and soon found myself picking up the keys to fulfil my passion.
I took time away from my managerial job in a popular retail establishment, and poured my heart and soul into making our chippy a success story.  After spending 10 months, working hard to build the business with a makeover and new innovating ideas, Ben's Plaice soon became a household name – attracting locals and holidaymakers alike.  We have plenty of regulars, and have built on our reputation, year-on-year, which is testament to the quality of our food, considering the number of takeaways in Looe.
In September 2023, readers of 'Cornwall Live' voted Ben's Plaice the 'Best Fish & Chip Shop in Cornwall in 2023,' with 1st place!  This is an amazing achievement, and we are extremely proud of this accolade.
Fast forward to approximately 18 months after our flagship shop fried its first Cod, and the word had spread about our subsidiary business – 'Ben's Plaice Millbrook' being on the verge of opening, which created quite a stir in this quiet village on the Rame Peninsula.  We basically saw an opportunity and grabbed it with both fish slices!  Millbrook was crying out for a decent chip shop.  The location was not only ideally placed to give the locals a night off from cooking, but was also close enough to provide people in the surrounding areas, plus the ravenous trainee sailors at HMS Raleigh with easy access to our appetising dishes, 7 days a week.
Short of time? Pre-order for collection
Reasons to Choose Ben's Plaice
Do you need any other reason to visit Ben's Plaice in Millbrook?  Here's why you should choose us:
Your food will always be
freshly cooked to order
Local, Cornish suppliers are
used where possible
We use MSC Certified,
sustainably caught fish
Our lightly battered fish is
easily digestible
We offer a diverse selection
of tempting dishes
We accept pre-orders via
phone, for collection